SummerBUZZ 2021
on September 11th, 2021 was a huge success!
We raised $1,138.72 in donations. On 10/26/2021 $569 was donated to Beds Plus Care and $596 was donated to Pillars Community Nurse.
Thank you to all who made donations and thise who have supported ATH over the years!
Please donate at www.assintingthehomeless.org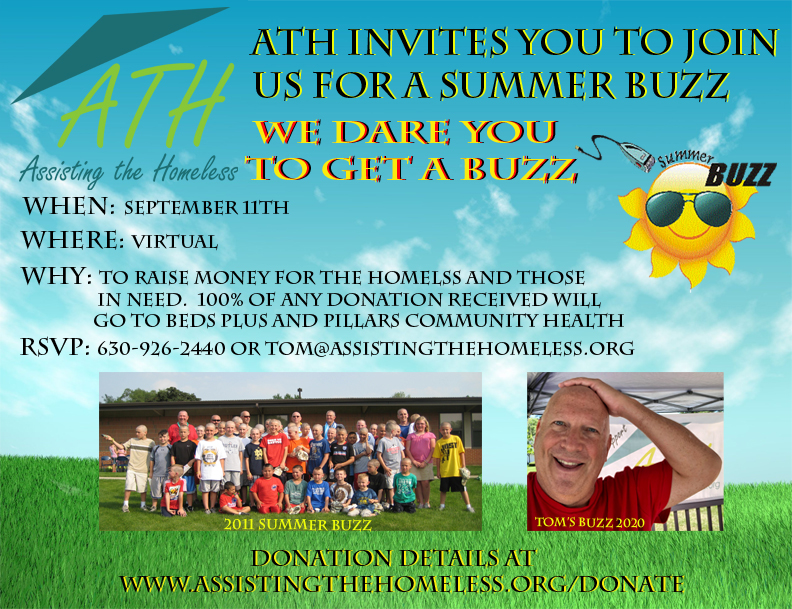 You can also make a .5 percent donation with every Amazon purchase by using AmazonSmile.
3 simple steps;
Step One: Go to smile.amazon.com log in using your email and password as if you were at amazon.com.
Step Two: One logon on to Amazon, select ATH – Assisting the Homeless the charitable organization you would like to support.
Step Three: Shop, Amazon Smile and Amazon will donate 0.5% of your eligible purchases to ATH.
Thanks again to everyone for your help, donations and support!
Without you, your help, ideas, energy and support ATH does not exist. Thanks from all of us at ATH!

If you want to help click on the link below and let us know what you would like to do to help.
The purpose of ATH - Assisting the Homeless is an organization to help the homeless by lending assistance and generating financial resources for the needs of the homeless.  This focus will be on assisting homeless organizations near ATH headquarters in the Chicago area, but we do assist homeless organizations in areas local to our donators as well.

If you have any questions, please contact us.